News Archive - May 2017
A Little Bit of History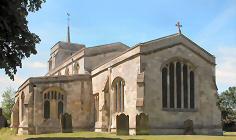 In two years' time we will celebrate 800 years since the founding of this church but we know that before this fine stone building existed, there was an earlier church 'in the village of Eitone', most likely built not of stone but of wattle, daub and thatch. Records show that this church and surrounding lands were given to Merton Priory by King Henry I as part of his endowment in 1131 of the new Augustinian Priory in Dunstable.
Interestingly, this documentary evidence of an earlier church was confirmed by the archaeological excavation that took place here last year when one of the skeletons excavated for the building of the extension was noted to have its legs under the SW wall of the church - a clear indication that another church had previously been on this site.
This Sunday together with other churches throughout the United Kingdom who share an historic connection with Merton Priory, we have been asked to remember the Augustinian Canons of Merton Priory, whose 900 years anniversary of their foundation occurs this year.
---
Prayer remembering the Canons of Merton Priory
"Almighty God, we thank you for the founding of our church here in Eaton Bray, and we ask that the Holy Spirit will lead us as he led the Canons of Merton all those centuries ago when they built and cared for this church where we now worship to your glory. Thank you for our church and for all the faithful people who have worshipped in it throughout the ages."
AMEN
---
Permalink
---
Public comments are closed for this article, but you are welcome to send us your thoughts on this article via the Contact Us page.