Baptism (Christening)
Coronavirus
Services at St Mary's
As from Sunday 6th September, we will recommence our 10am Holy Communion service. This date is our Patronal Festival when we celebrate the birth of St Mary to whom our church is dedicated. If you have not yet been able to join us in August, please be reassured that our seating and procedures have been arranged to be as safe as possible. Face masks are a statutory requirement at this time. To assist with cleaning, there will be just one service at 10.00am. The doors will be open from 9.45am.
Our Wednesday morning Holy Communion service will also recommence as from Wednesday 9th September.
We carry on doing our best to meet the Archbishops' challenge to bring 'church' to people in different ways, so if you cannot come to church in person, please revisit this website and our Facebook page each week to access our latest Morning Prayer video.
If you are in need of help, please ring the Vicar on 01525 220261 or send a message via the contact page.
Prayer
Keep us, good Lord,
under the shadow of your mercy
in this time of uncertainty and distress.
Sustain and support the anxious and fearful,
and lift up all who are brought low;
that we may rejoice in your comfort
knowing that nothing can separate us from your love
in Christ Jesus our Lord.
Amen.
St Mary's, Eaton Bray is also open for private prayer on Wednesdays 10-4. Please read the notices inside the church.
All Saints, Dagnall will remain closed until further notice.
Baptism at St Mary the Virgin, Eaton Bray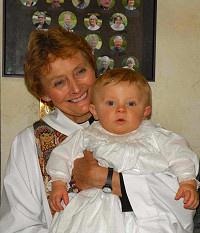 Baptism marks the beginning of a journey with God which continues for the rest of our lives. It is a joyful moment when we rejoice in what God has done for us in Jesus Christ.
In the church of St Mary the Virgin, baptism takes place on a Sunday morning within the family of the local church and the friends and family of the child or adult being baptised.
---
Can I be baptised in the Church of my choice?
At Baptism, a person is baptised into the fellowship of the local church. The congregation greet that person at the service and promise to help and support them as they grow in the Christian faith. Therefore the person being baptised should either live in the parish of St Mary's Eaton Bray or be part of a family who are regular members of St Mary's Eaton Bray.
There is no right age to be baptised and we welcome both children and adults. A baptism service at St Mary's takes place at the 10am service.
---
Baptism of children and of infants
Young children are not able to express their own wishes about being baptised, nor can they make the promises to follow Christ that are required at baptism. The promises, therefore, are made on the child's behalf by parents and godparents.
Godparents are friends chosen by the parents to help bring up children in the Christian faith until they can make the promises themselves at a service of confirmation.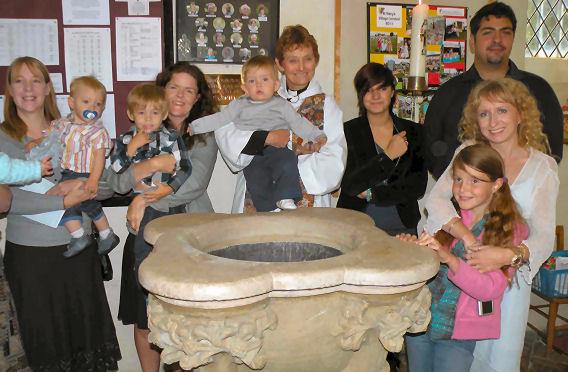 ---
How can I arrange a Baptism?
For all enquiries regarding Baptism please contact us.