Current News
What a treat we have in store for you on Saturday 8 July at 7pm soprano Emily Haig and Karen Logan, mezzo soprano, will bring a fun and interesting programme of classical and musical theatre favourites to St Mary's.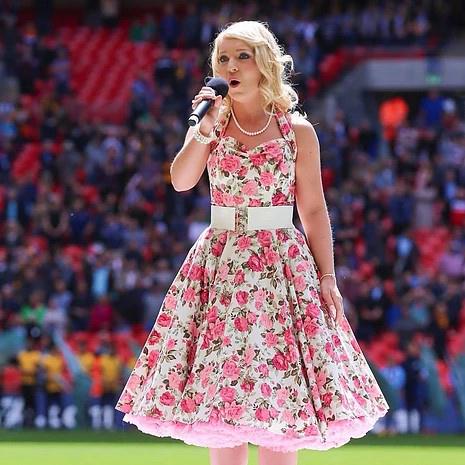 On 27 May Emily was the anthem singer for the Emirates FA Cup Final, broadcast live to 100 million people worldwide and she regularly performs her own concerts throughout the UK and with choral societies and male voice choirs. Emily and Karen have performed together on many occasions and are looking forward to bringing their "Let's Hear It For The Girls" concert to Eaton Bray, along with their pianist, acclaimed musician Adrian Boynton, who is also Director of Music at the Church of Christ the Cornerstone, Central Milton Keynes. Emily will be premiering a new Royal Anthem by composer in residence to Cruse Bereavement Care, Olga Thomas, which commemorates Her Majesty the Queen's 65th year of reign, entitled Royal Sapphire, and for which Olga will be accompanying Emily on the piano.
Emily has become Wembley Stadium's favourite soprano having been invited to perform the National Anthem on nine occasions on behalf of the Football Association and Football League, all of which were also broadcast live on both TV and radio to an audience of millions. She is becoming one of the UK's best loved sopranos: with the looks and style to go with it.
In 2016 she performed the anthems on behalf of Scotland and Australia as part of the Rugby League Four Nations tournament, both of which were live broadcast on BBC and Radio 5 Live.
In April 2017 Emily was on the grid at Silverstone performing the National Anthem before the FIA World Endurance Championships, the UK first leg of the Le Mans racing series and on 16th July will be opening the 2017 Formula 1 Rolex British Grand Prix.
Emily has royal connections in 2016 she was invited to perform two tracks on a celebratory album recorded by Her Majesty's Royal Marines to mark the 90th birthday and long reign of Her Majesty the Queen and she was chosen to record two Royal lullabies specifically written for an album in honour of Prince George and Princess Charlotte. In March 2017 she recorded another anthem written specially for Emily commemorating Her Majesty's Sapphire Jubilee.
Planning is already taking place for this year's Poppy Prom in November at which we have invited Emily Haig as our principal soloist.
Tickets are £10 for adults and children have free entry, with profits benefitting St Mary's. Interval refreshments will be on a donation basis.
This will be a memorable concert so please phone 07771 702136 / [email protected] for tickets. For further details please see Emily's website www.emilyhaigsoprano.co.uk
---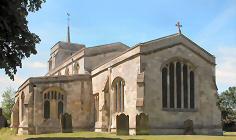 In two years' time we will celebrate 800 years since the founding of this church but we know that before this fine stone building existed, there was an earlier church 'in the village of Eitone', most likely built not of stone but of wattle, daub and thatch. Records show that this church and surrounding lands were given to Merton Priory by King Henry I as part of his endowment in 1131 of the new Augustinian Priory in Dunstable.
Interestingly, this documentary evidence of an earlier church was confirmed by the archaeological excavation that took place here last year when one of the skeletons excavated for the building of the extension was noted to have its legs under the SW wall of the church - a clear indication that another church had previously been on this site.
This Sunday together with other churches throughout the United Kingdom who share an historic connection with Merton Priory, we have been asked to remember the Augustinian Canons of Merton Priory, whose 900 years anniversary of their foundation occurs this year.
---
Prayer remembering the Canons of Merton Priory
"Almighty God, we thank you for the founding of our church here in Eaton Bray, and we ask that the Holy Spirit will lead us as he led the Canons of Merton all those centuries ago when they built and cared for this church where we now worship to your glory. Thank you for our church and for all the faithful people who have worshipped in it throughout the ages."
AMEN
---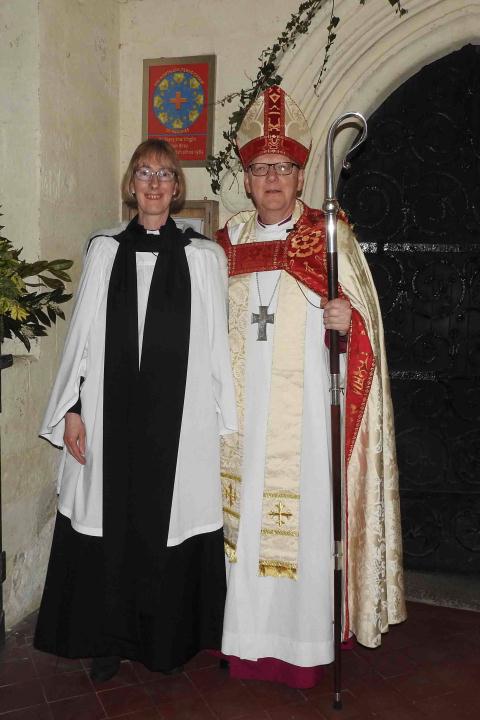 On Wednesday 26th April, St Mary's was packed with members of the congregation and local community to welcome the Revd Joy Cousans and witness her being licensed by the Bishop of St Albans, as the new Vicar of Eaton Bray with Edlesborough.
Joy was previously Priest in Charge of High Hoyland, Scissett and Clayton West in the Diocese of Leeds. She trained for the ministry at Ridley Hall, Cambridge. Prior to ordination in 1992 she worked as a Youth Worker in London and Sheffield.
Joy and her husband, Dave and dog, Barney, are settling in at the Vicarage.
---
On Saturday 20 May 2017 at 7.30pm Jonathan Veira, a top quality Christian entertainer and performer, who sings beautifully, plays the piano and makes people laugh, will be at St Mary's Church.
Jonathan has established a reputation over the last 30 years singing to millions across the UK and the rest of the world - you may have seen him on Songs of Praise where he is a regular guest.
An evening with Jonathan Veira is so much more than a concert - it feels like a wonderfully enjoyable time spent with a good friend.
Jonathan Veira on Songs of Praise
A video of Jonathan performing and being interviewed by Aled Jones on Songs of Praise from May 2010.
---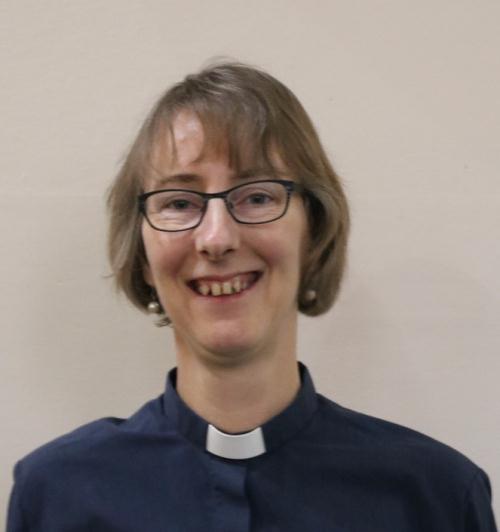 We are delighted to announce that the Reverend Joy Cousans is to be our new Vicar. Joy is currently Priest-in-Charge of the Benefice of High Hoyland, Scissett and Clayton West in the Diocese of Leeds. She trained for the ministry at Ridley Hall.
Prior to ordination in 1992 Joy worked as a Youth Worker in London and Sheffield. She is married to Dave, a Yorkshireman, who enjoys cricket and real ale. They have a dog, Barney, and both enjoy walking. Joy is looking forward to moving to Eaton Bray with Edlesborough, and to getting to know people and exploring this beautiful part of the world.
Joy will be licensed as our Vicar at 7.30pm on Wednesday 26 April 2017 by the Bishop of St Albans.
---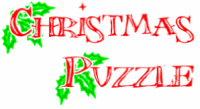 This year's annual Charity Christmas Puzzle has now been posted, and is available to download.
This, the 26th annual Puzzle that Gordon Gray has set, has a theme designed to help completion and will appeal to people who enjoy doing Crossword puzzles, such as in the Daily Telegraph (though it is not a Crossword puzzle). Puzzlers have plenty of time to find the answers and Puzzles should be returned, with donation, by 29 January 2017.
To download a copy of the Puzzle go to www.christmaspuzzle.co.uk. Alternatively puzzles can be collected from St Mary's Eaton Bray.
All the money you donate, except for the prize-money, will go to charity.
---
---
Archived News
Please see the St Mary's Eaton Bray News Archive for links to archived news about St Mary's.