Current News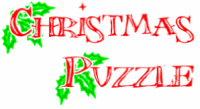 This year's annual Charity Christmas Puzzle has now been posted, and is available to download.
This, the 29th annual Puzzle that Gordon Gray has set, has a theme designed to help completion and will appeal to people who enjoy doing crossword puzzles, such as in the Daily Telegraph (though it is not a crossword puzzle). Puzzlers have plenty of time to find the answers and Puzzles should be returned, with donation, by 26 January 2020.
To download a copy of the Puzzle go to www.christmaspuzzle.uk. Alternatively puzzles can be collected from St Mary's Eaton Bray.
All the money you donate, except for the prize-money, will go to charity.
---
Below are a few photos (© Catherine Wendeler) from the recent Messy Church session in May 2019 during the half-term holiday. Click/tap to see full image.
---
---
---
---
His Royal Highness The Duke of Gloucester visits St Mary's Church, Eaton Bray
Bright sunshine welcomed the visit of His Royal Highness The Duke of Gloucester to the Church of St Mary the Virgin, Eaton Bray with Edlesborough, on Wednesday 15 May as part of the church's 800th Anniversary celebrations. The visit to the church concluded HRH's three-part visit to Bedfordshire having been to Bedford School and Wardown House Museum and Gallery in the morning.
HM Lord-Lieutenant of Bedfordshire, Helen Nellis, accompanied His Royal Highness on his visit. Other dignitaries present included the High Sheriff of Bedfordshire Meryl Dolling, the Bishop of Bedford The Rt Revd Richard Atkinson OBE, the Chief Executive of Central Bedfordshire Council Richard Carr and the Chief Fire Officer Paul Fuller CBE QFSM MStJ DL.
The visit was hosted by St Mary's Church Warden Catherine Hayden who introduced His Royal Highness to the Vicar of Eaton Bray with Edlesborough Rev Joy Cousans, the former retired Vicar of Eaton Bray with Edlesborough Revd Canon Malcolm Grant and the Reader of the Parish Gordon Gray.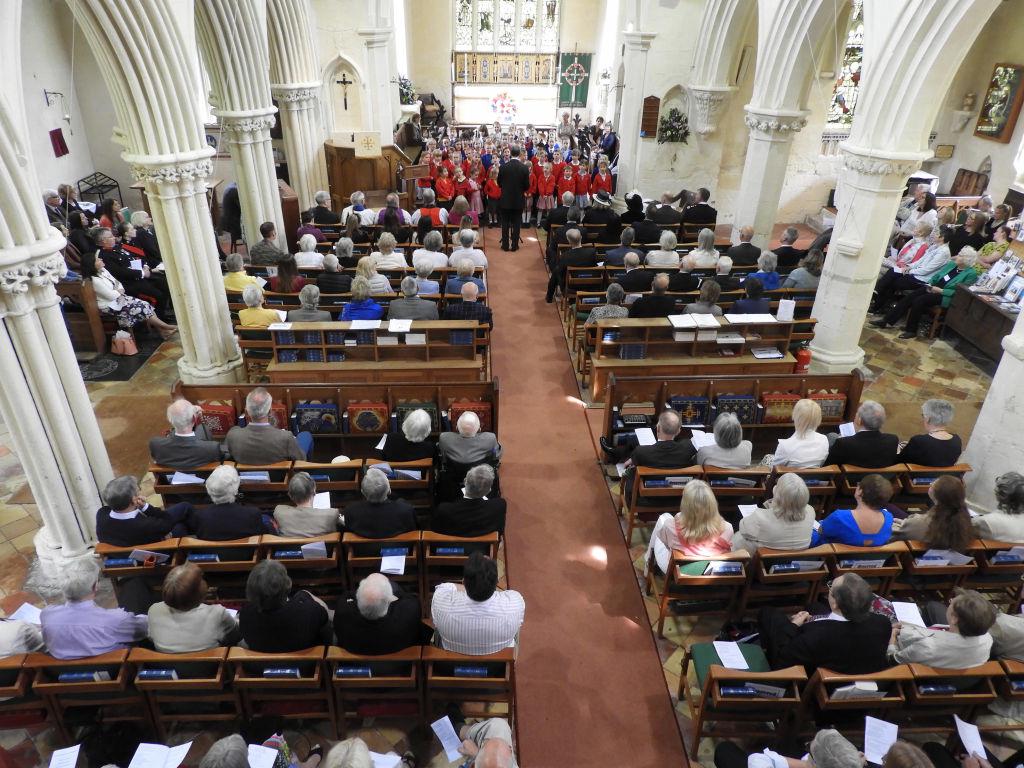 ---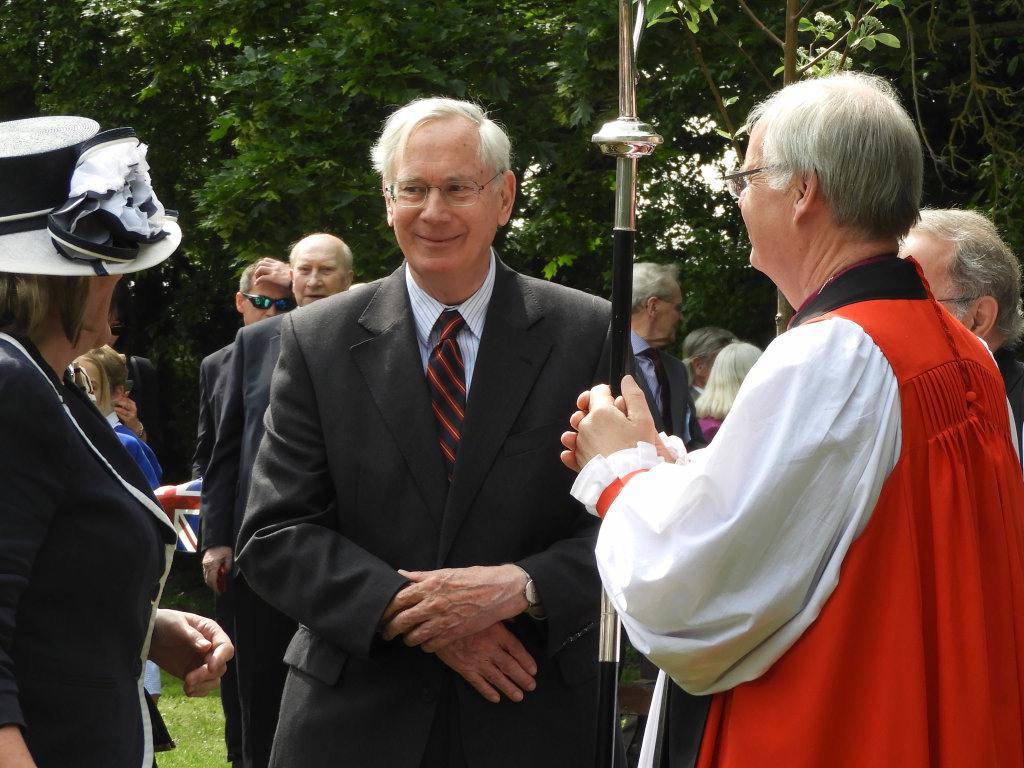 ---
The visit commenced with a Service of Dedication and Thanksgiving led by The Bishop of Bedford and Rev Joy Cousans during which a choir comprising pupils from the three schools in the parish (Dagnall Church of England School, Eaton Bray Academy and Edlesborough School) sang the anthem "Look at the world," by Rutter. After a blessing from the Bishop, His Royal Highness signed the Visitors' Book.
His Royal Highness has a background as an architect and Revd Canon Malcolm Grant, who has undertaken extensive research on St Mary's Church and has written a book on its history and architecture, provided a guided tour of St Mary's. He explained the marked difference in architectural style between the North and South arcades and highlighted several connections with the Royal Household, including the work of Reginald Bray, after whom the village was named and who was architect and builder of St George's Chapel, Windsor.
After His Royal Highness was presented with three books on the history of the church and village (Malcolm Grant's book plus two by the village historian Peter Mayne), dignitaries moved outside the church to join members of St Mary's congregation and parents and pupils from the schools. His Royal Highness was introduced to tree specialist Brian McMahon who explained that the tree to be planted was a whitebeam that would grow to a medium height and prove a most attractive addition to the Churchyard.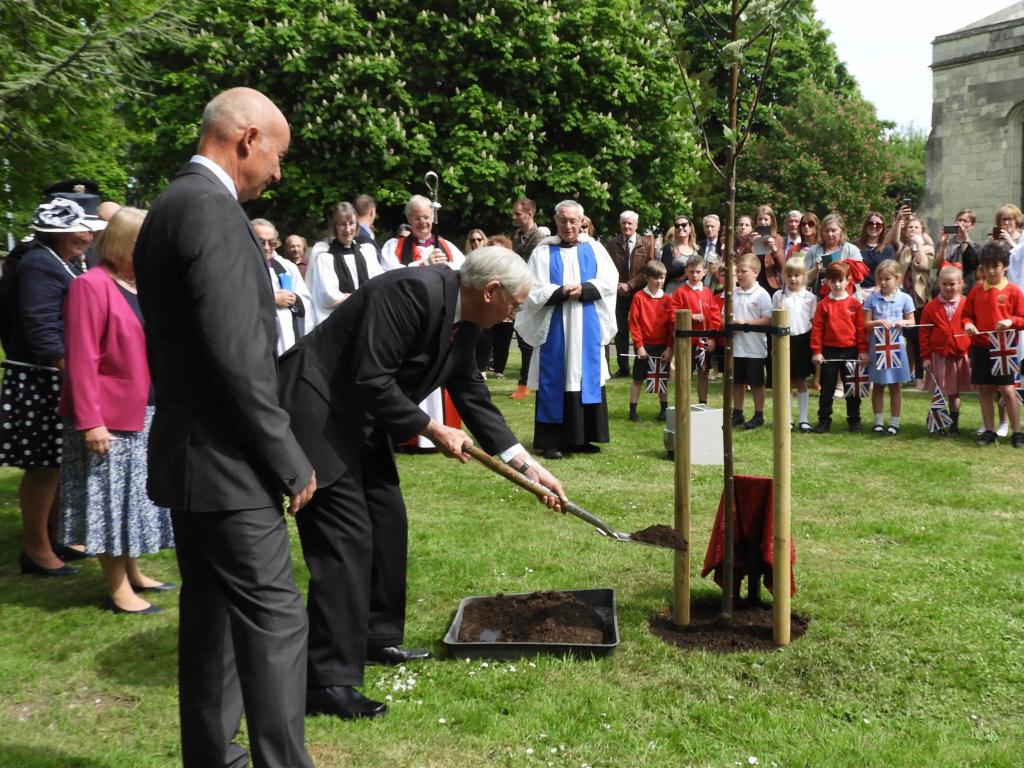 ---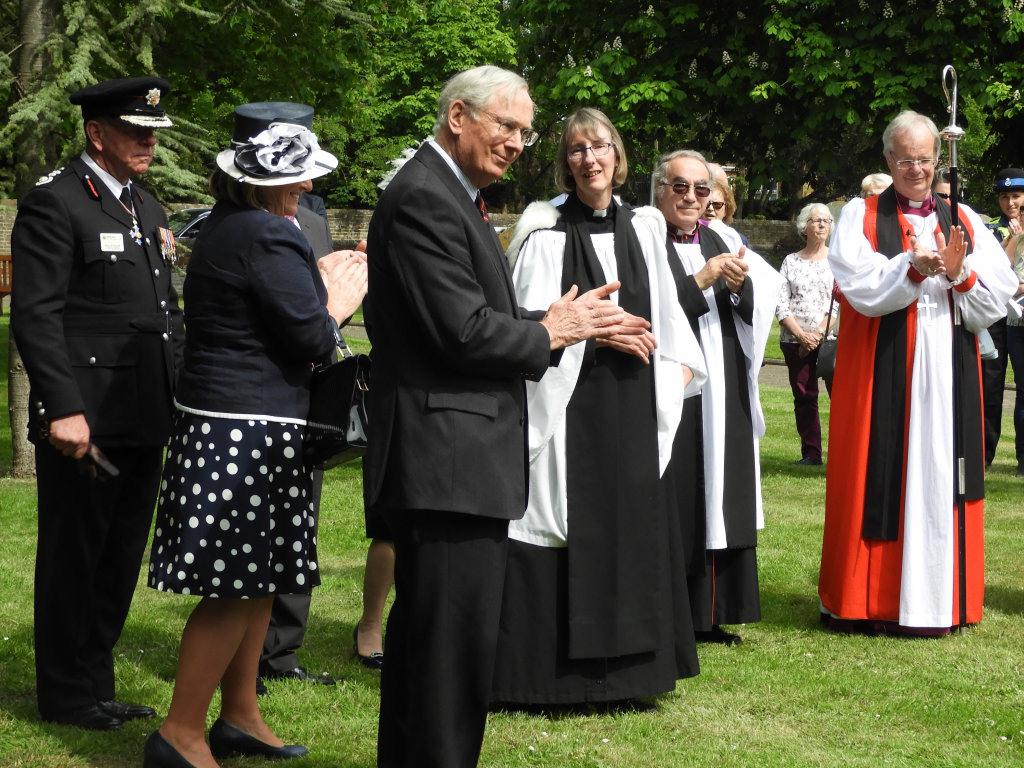 ---
Having ceremonially planted the tree, His Royal Highness spoke with members of the congregation and the choir children before being bid farewell by Rev Joy Cousans and the Lord-Lieutenant.
Speaking after the visit, the Lord-Lieutenant said, "It was a great pleasure for me to welcome HRH The Duke of Gloucester to Eaton Bray in this three-part visit to Bedfordshire. His Royal Highness visited some very special places in the county which showed many different and successful aspects of living in our vibrant community. We hope His Royal Highness enjoyed his visit".
---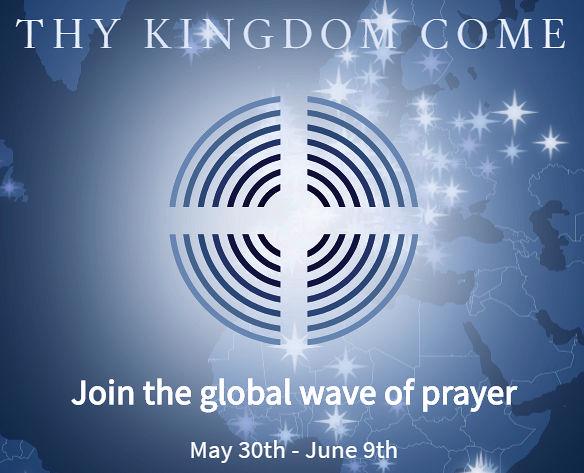 Thy Kingdom Come is a global movement inviting Christians to pray during the nine days between Ascension Day and Pentecost for more people to know Jesus Christ. Thousands of individuals, groups and churches worldwide have responded to this call and each year Thy Kingdom Come inspires countless local prayer events.
St Mary's is again joining in with the Global Wave of Prayer from Ascension Day to Pentecost 30th May to Pentecost 9th June 2019.
We join together with 65 denominations and 114 countries which is very exciting; we are registered on the map as a participation church. Please join us for this exciting week.
You can find out more by going onto the web site www.thykingdomcome.global
We start the week on May 30th Ascension Day at 7.30pm with an Ascension Service at St Mary's. All sessions onwards are for half an hour and are held at 10am and 6pm the exceptions are as follows:
Morning session Sunday 2 June 10am church service
Evening session Tuesday 4th June 7.30pm prayer Praise at Dagnall church
Morning session Wednesday 5th June 10am church service
Morning session Sunday 9th June 10am Sunday service
Evening FINISHES at St Albans Abbey BEACON Celebration at 6.30 pm.
---
Below are a few photos (© Eileen Bennett) from Mothering Sunday 2019. Click/tap to see full image.
---
---
---
---
On Sunday 17th March at St Mary's Church, our vicar, Rev'd Joy Cousans, celebrated the 25th anniversary of her ordination which took place on 15 March 1994 in Sheffield Cathedral.
Over a hundred people including family, friends and people who had traveled from her previous parish in Yorkshire, attended the service. Joy was presented with a Fair Trade 'children hand in hand' stole by the congregation to use at Messy Church family services.
Joy has been a priest for as long as it is possible for a women, not only was she in the first group of women to be ordained in the northern Province of the Church of England, but by virtue of the starting letter of her surname, she was the very first!"
The occasion was a very happy one and it was such a pleasure to share this special day with her.
---
Click each image for a larger version
---
---
Archived News
Please see the St Mary's Eaton Bray News Archive for links to archived news about St Mary's.