The Travelling Crib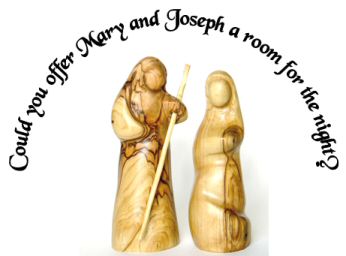 There is an old Mexican custom where, during Advent, people dressed as Mary and Joseph travel around their villages knocking at peoples' doors to see who will give them hospitality.
The St Mary's Ladies Guild has adapted this custom through the idea of a Travelling Crib, which was initiated, throughout our villages, for the first time in 2004. Many of you who attended one of St Mary's popular Christmas Eve Candle Service last year will have witnessed the return of our Mary and Joseph crib figures after they had spent December travelling from one home in the parish to another, symbolising Mary and Joseph's difficult journey from Nazareth to Bethlehem before the birth of Jesus.
Our Mary and Joseph are crib figures made from olive wood and carved by Christians in Bethlehem. After a blessing in church on Advent Sunday they will journey around the parish staying one night in any house that will welcome them. A short service is held on their arrival and a candle lit to signify they have a home for the night. Eventually they will be brought back to church on Christmas Eve for this year's Candle Service.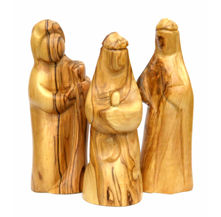 To enable as many families as possible to participate in this lovely ritual we also look for homes for three wise men, who will set out from St Mary's at the 6pm Candle Service on Christmas Eve visiting homes in the parish before returning to worship the Christ child on Epiphany.
All are welcome to participate in this activity which provides an opportunity for a short act of worship during which a candle lit to signify our travellers have a home for the night. This is often followed by the chance for the two families concerned to share glasses of wine and mince pies if they wish. We do hope that St Mary's Travelling Crib will find a welcome in your house this Christmas. If you would like to have Mary and Joseph or the Wise Men in your home for a night please sign up on one of the forms on the Notice Board in St Mary's Church.